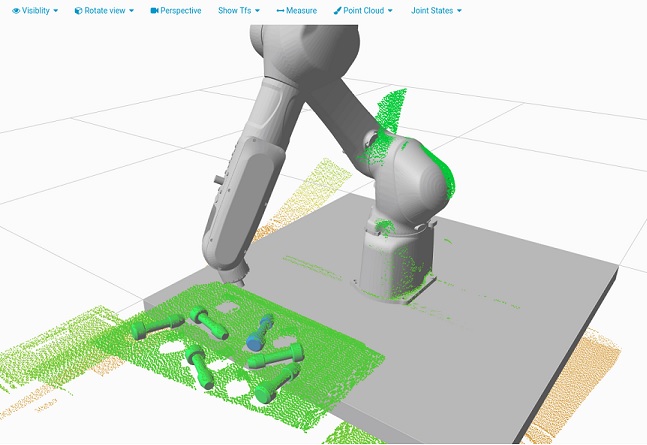 Bin Picking Studio 1.2.0 released
In March 2019, Photoneo has released the Bin Picking Studio 1.2.0. Our effort was focused on improving the user experience.
You can look forward to the following new features:
As a simple setup of one robot, one scanner, and one part had not been a challenge anymore, we decided to introduce the option for multiple vision systems and multiple picking objects. Users can configure up to 4 objects in a single solution, whereby each object is assigned to a dedicated bin and PhoXi 3D Scanner.

We have launched the PhoXi Control integration. The Bin Picking Studio offers a web-based scanner user interface which provides basic functionalities such as device list, software trigger, point cloud, depth map or texture preview.

We have also integrated the localization configurator. The Bin Picking Studio now includes a web-based user interface for configuration and verification of Photoneo's localization parameters. All user settings are available in the Studio.

For user convenience, robot joint angles can now be viewed also in degrees, not only in radians.

Previously there had been issues with setting proper TCP/IP ports on the network page. From now on, the correct port configuration for a robot is determined automatically based on the robot brand. Just use the default parameters provided by our sample programs and you will be ready to go.

We have added the German language to the Studio. More language versions will be available with the next releases.

Every system requires a restart from time to time. This is not an issue anymore thanks to the new Autostart feature. It is possible to run the Bin Picking Studio right at the vision controller boot with one pre-selected solution.

The family of supported robot brands has been joined by Mitsubishi.

There are 12 new robot manipulators available, including new UR e-series.

Do not miss our new 3D visualization on the deployment page. Besides the robot with its environment and point cloud representing the scene, the localized parts are present, including a color code and related statutes. Debugging has never been easier.

The path stages have been extended with new waypoints which makes the configuration of the extraction procedure more flexible for users. We have introduced fixed waypoints in a layer defined by users. There are also further new waypoints with a relative offset to Start and End position.

Finally, the documentation is easily accessible, including a built-in robot documentation. It has been updated to be more precise and descriptive.
Happy picking!