Automated Piece Picking
No CAD? No problem! It does not matter what shape or size your parts are - with the AI-driven piece picking none is a challenge. Integrate the system with ease into your existing line or as a stand-alone solution. Pick and place objects that may be as small as 1x1 centimeter - all thanks to the advanced location detection algorithms. Improve your efficiency with a system that will not let you down any time during the year and that will move up to 500 picks per hour.
Read more…
Depalletization
Bring your warehouse effectiveness to the next level with AI-powered Universal Depalletizer. Discover a new way of unloading boxes with a sophisticated machine learning algorithm that recognizes even non-standard boxes that do not need to be stacked in patterns. Embrace the vast AI database of objects, pick with 99.7% accuracy, and handle more than 1000 boxes/hour.
Read more…
Singulation and sorting system
Picking of solid objects with deformed surfaces that change under the slightest pressure was the next challenge. We taught our AI algorithms to recognize obstructions, deformations, and challenging picking paths. This way we are able to send a clear message to the robot which object is the most suitable to be picked. The result was remarkable - the ability to reach picking cycle times of less than 1.3 seconds with more than 2500 objects/hour picked. All done with precise PhoXi 3D Scanner & localization as eyes and AI algorithms as brains standing behind each singulation solution.
Find out more…
Watch the Webinar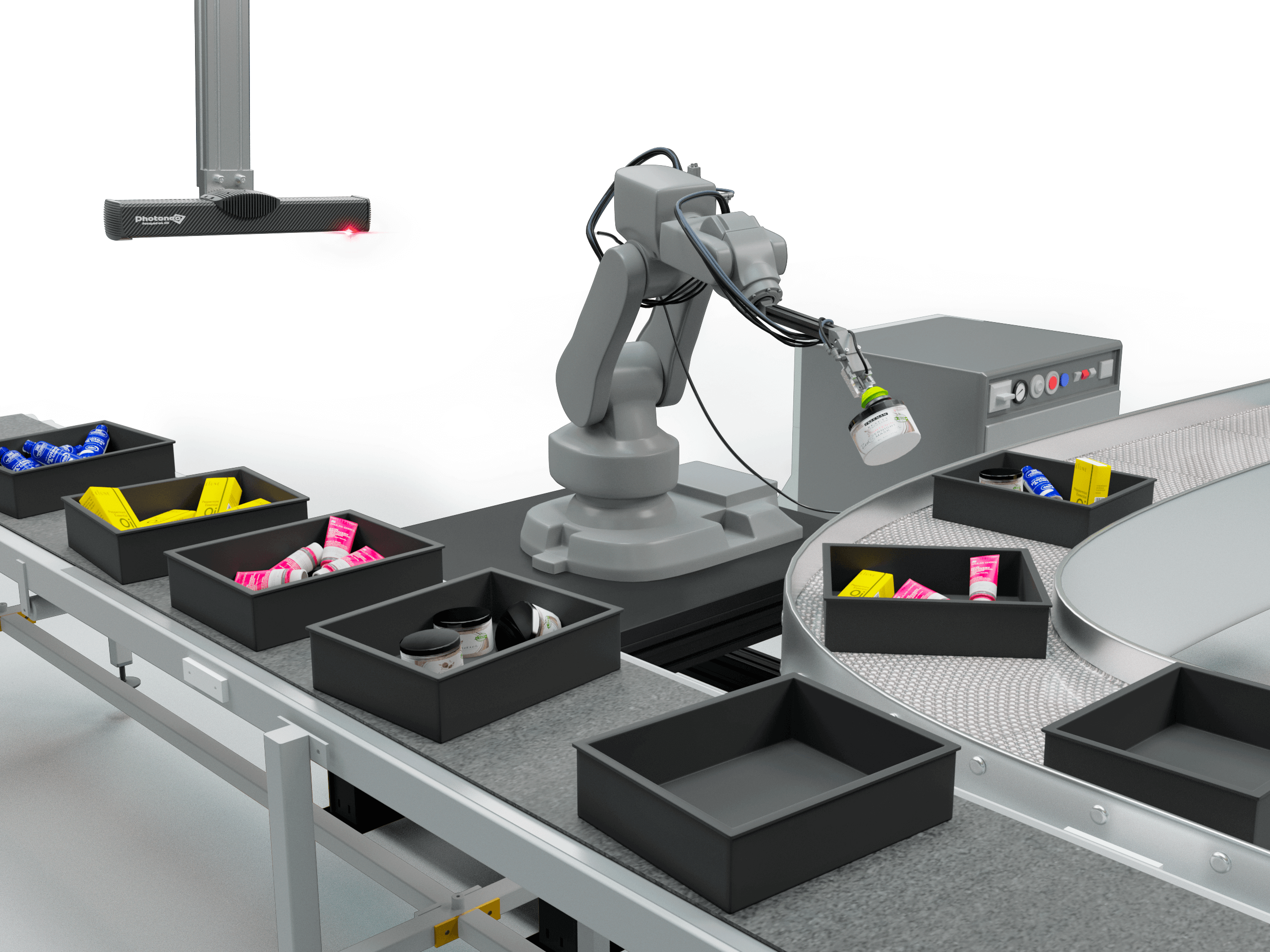 AI powered material handling available for everybody
Automation of processes is becoming more popular within logistics and material handling industries. As the amount of transferred objects grows there is a continuously increasing need for high efficiency, reduced cost, and of course reliability.
At Photoneo we utilize our vast knowledge from the area of vision-guided robotics and production automation and bring you new ways and approaches to how you can look at your warehouse. Utilizing the latest technologies, artificial intelligence and precise 3D vision all you need is under one roof.
Embrace the new levels of efficiency and reduce the costs for your final customers. Our track record and global presence speak clearly in our favor - experience AI robotics that works.
Our partners and customers