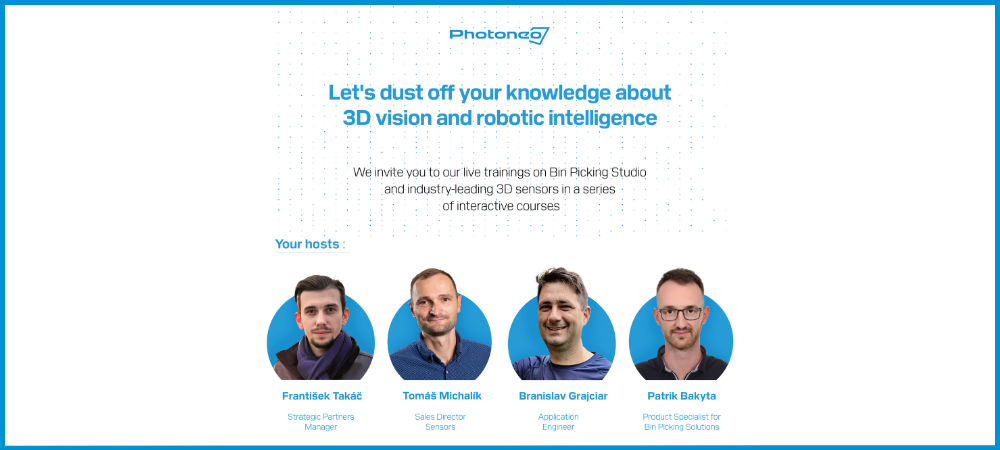 Become an expert in automation & 3D vision with our September trainings
Let's dust off your knowledge about 3D vision and robotic intelligence.
We have prepared a complete set of LIVE trainings for this occasion, comprised of three courses:
In the first one, you will get to know our Bin Picking Studio – the robotic intelligence software for bin picking applications. In the second course, you will deep dive into automation challenges you can solve with this tool. And in the third one, you will get to know the broad portfolio and capabilities of our industry-leading 3D sensors.
But that is not all. We have some big surprises for you!
Be among the first ones to see our game-changing device MotionCam-3D Color in action. It will be featured in the 3D Scanning Product Training on 20 September 2022 so make sure to attend the course.
For all three courses, you can register here or contact marketing@photoneo.com.
Bin picking trainings
Get to know our Bin Picking Studio and what you can do with it with our Patrik Bakyta, Product Specialist for Bin Picking Solutions, and František Takáč, Strategic Partners Manager.
1. Course: Introduction to Bin Picking Studio
6 September, 10:00 – 12:00 CEST
Agenda:
10:00 – 10:30 – Requirements for machine vision and major obstacles
10:30 – 11:00 – Bin picking by Photoneo
11:00 – 11:30 – Practical demonstration + Q&A
2. Course: Become a Master of Bin Picking
13 September, 09:00 – 15:00 CEST
Agenda:
09:00 – 09:15 – Sales introduction to Photoneo and its products
09:20 – 12:00 – Bin Picking Studio theory, incl. object configuration, grasping method, localization, and calibration
12:00 – 13:00 – Lunch break
13:00 – 13:30 – Configuration of the environment and settings
13:30 – 14:30 – Use case and demo
3D sensing training
Learn how to get first-class 3D scans of static scenes with our PhoXi 3D Scanners or perfect 3D models of dynamic objects with our MotionCam-3D and MotionCam-3D Color. Our experts Branislav Grajciar, Application Engineer, and Tomáš Michalík, Sales Director of Sensors, will show you the key power features of Photoneo 3D sensors.
Course: 3D Scanning Product Training
20 September, 09:00 – 12:00 CEST
Agenda:
09:00 – 09:20 – Introduction to Photoneo 3D sensors and applications
09:20 – 10:35 – Practical training on how to scan
10:35 – 10:45 – Coffee break
10:45 – 11:45 – PhoXi 3D Meshing
We are looking forward to seeing you there!