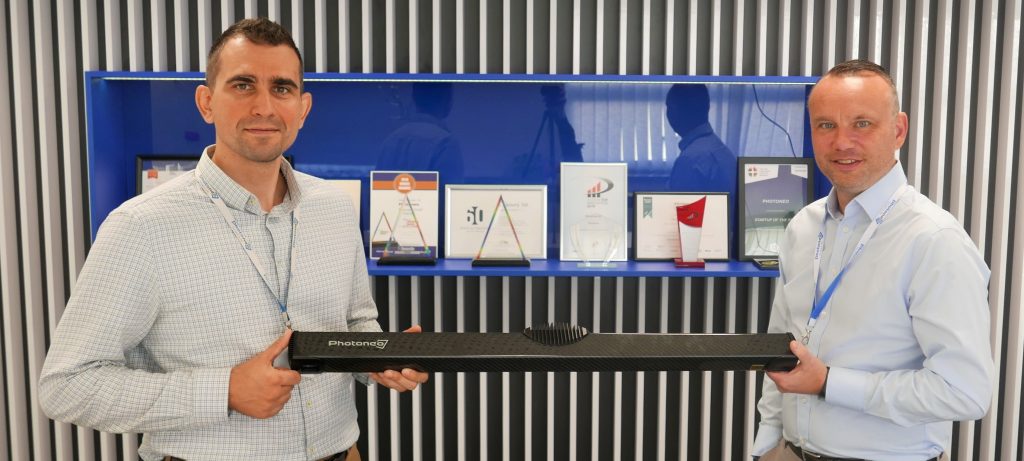 Photoneo extends its DACH presence
Photoneo's DACH team has great news to share with you. After a thorough selection process, we are proud to announce a new team leader for the region.
Meet Jens Kayser – the new Director of Sales for the DACH area. Together with Branislav Pulis, our VP of Sales and Marketing, they spared some time to answer a few questions about themselves and the future plans of Photoneo. 
Question: What is your experience with smart automation and vision-guided robotics?
Jens: I have been working in the field of industrial vision for a long time – specifically 10 years. During this time I had the opportunity to learn from the best players in the market and help them achieve their sales goals. 
Question: How did you find out about Photoneo?
Jens: Actually it is a funny story. In my previous job, I got challenged in a project tender by this company. At that time I did not know much about Photoneo. However, as I researched them I figured out that they were something special and definitely a market player that was able to deliver good technological solutions. 
Question: Why did you choose Photoneo as your next professional career journey?
Jens: Well, for me it was the team they gathered there. They are truly motivated and definitely very smart people. In the end, they hold several patents. For me, great technology is always the sign of a successful company. And I have to say that Photoneo technology that is constantly improving and taking down barriers with each update is what convinced me as well. Not to speak about the customer-centric focus of the entire company – that is pretty rare nowadays. 
Question: Branislav, when hiring a new director of the DACH region, what convinced you to go for Jens?
Branislav: It was mainly two things that convinced me. First, it was the right combination of technical knowledge and sales experience. In his previous positions, he proved to be very efficient and managed to get a good hold of the DACH market, which made him a good fit since he can lead and execute. Second, it was his motivation and drive to move things forward. We are a well-established company but we need to continuously improve and push harder. And I believe that Jens is the right guy for the job.
Question: What are your expectations, Branislav? What should Jens bring to the table?
Branislav: At Photoneo, progress is everything. This is, of course, in the DNA of all of our employees, either technical or sales. The expectations are very simple – help Photoneo close new deals and new partnerships in the region and show that smart automation is the only way for any factory to succeed in the future. The global pandemic showed us that we were not ready for massive spikes in production or new peaks in logistics. We know that through smart automation we are able to optimize production, warehousing, and distribution. And this is going to be a task for Jens – to show businesses that automation is the way.
Question: Jens, your 10-year experience in the area of industrial vision made you for sure aware of some challenges and opportunities in this field. Could we discuss what they are and what is the solution?
Jens: The majority of global market leaders are based in the DACH region. To stay competitive, they have to continuously increase their level of automation to save costs and be more efficient than their competition. However, despite the evolution of the market and businesses, there are still some parts of processes that are monotonous, dangerous, and generally unnecessary to be performed by humans. I believe that companies have already realized it and the boom of smart automation will start right after the pandemic and solve the upcoming requirements of the fast-changing world. 
Question: Why do you think Photoneo technology will be successful in the future?
Jens: Thanks to the patents owned by Photoneo, it is very hard for other companies to copy them. It has unlocked a new gate to vision technology with their MotionCam-3D and I believe that the world needs to get to know also their software solution packages that are powered by AI, which is currently one of the most advanced in the industry. The complexity of combining hardware, software, and integration tools is all covered in-house, which makes Photoneo an ideal one-stop company when it comes to the integration of vision-guided robotics. Plus, what makes the company stand out is that it constantly listens to the market and its customers and actually acts upon the feedback it receives. 
Well, this was Branislav and Jens taking the time to answer some questions for you. Welcome Jens, we wish you a lot of luck and many successful deals!