Photoneo extends its team with new International Business Director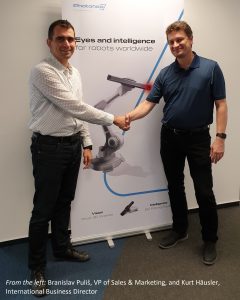 We are very happy to welcome aboard Kurt Häusler, Photoneo's new International Business Director.
Kurt is a seasoned pro with extensive experience in the machine vision industry and we are excited and proud to have him in the team.
Branislav Puliš, VP of Sales and Marketing, says, "We are very pleased to welcome Kurt to our team and believe his experience and vision will be a valuable asset to our company."
And what does Kurt say about the new step in his career?
"I have been following the impressive progress of Photoneo since its foundation in 2013. From the very first contact I have appreciated their strong technical background and entrepreneurial courage to accomplish an ambitious vision of changing the automation world. The innovative products backed by solid patents, a dedicated team of leaders and a committed board encouraged me to take a closer look."
He adds, "When I heard about the assertive plans of rapid growth and expansion in our interviews I felt immediately excited to become a part of this journey and loved the idea of being able to complement the young team with my senior management and sales skills. The mutual trust in each other was there from the first meeting and that was also one of the important factors for my decision to join Photoneo."
We believe the decision to combine our skills and experience is a step in the right direction to further build our brand and expand its presence on the European and US market.