The revolution is in Motion – Meet the ultimate 3D camera
The highest-resolution and highest-accuracy area scan 3D camera that can "see" in motion is here 
Machine vision limited to static scenes has greatly benefited a multitude of industrial applications. Yet no 3D vision system has so far been able to capture dynamic scenes without a trade-off between quality and speed.
Now you can capture dynamic scenes accurately and fast with the novel patented Parallel Structured Light technology harnessed by the MotionCam-3D and shift the paradigm forever.
Never compromise between the quality and speed of a 3D reconstruction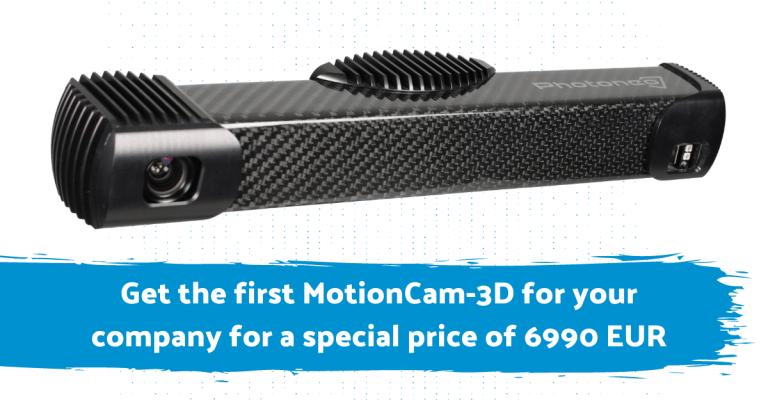 Area scanning of objects moving 144 km/h
MotionCam-3D is the highest-resolution and highest-accuracy area scan 3D camera that can capture fast moving objects. This is possible thanks to the Parallel Structured Light technology, which "paralyzes" the scene to acquire multiple images of structured light in one frame. 
A device that can effectively withstand vibrations 
Thanks to the unique technology, MotionCam-3D is able to withstand shocks and vibrations. This means that dynamic scenes or movements of the camera do not cause any distortion of the final output or broken acquisition.
Resolution of up to 2 Mpx
Get a high-density point cloud with a resolution of 0,9 Mpx. This parameter amounts to 2 Mpx in the mode for static scenes. 
No more blurry edges
The robust performance of MotionCam-3D ensures a high level of detail even in areas that are generally challenging to scan with high accuracy, including the edges of the scanned object.
Thermal calibration, PoE & 24 V, and durability ensured by IP65
MotionCam-3D features thermal stability even in changing temperatures, resistance to dust and water thanks to the Ingress Protection level IP65, and PoE (Power over Ethernet) connection enabling the use of a single cable with a length of over 30 m for both power and data connection. These features allow you to deploy the camera in demanding conditions of industrial settings.
Easy setup
Just plug and play. MotionCam-3D comes pre-calibrated with an accuracy starting at 0.15 mm. Moreover, you no longer need any complex constructions to make it work. This greatly reduces the time and costs needed for integration. 
No need for your PC to run computations
MotionCam-3D provides 15 million 3D points per second thanks to the powerful graphics processing unit, which enables running the computations directly on the device. This saves PC resources and leaves space for more user applications.
Unrivaled scanning range 
The scanning volumes of MotionCam-3D range from 36 cm up to 3 m. This means that the camera can be used for scanning items of the size of a cup of tea as well as for objects as large as a EUR-pallet.