Partner:
ATEsystem Jablonec s.r.o.
Winner of the "Best application 2018"
Problem:
Heat exchangers, the main product of the customer, have many joins to be brazed. Before the implementation of our solution, brazing had to be performed by workers.
Manual brazing was expensive as it required a high number of workers and also due to a high reject rate. Robotic brazing, in contrast, is cheaper, more accurate and more reliable.
Solution:
PhoXi 3D Scanner
The heat exchanger and its soldering joints are precisely located in the 3D space. The position of the spots to be brazed is sent to the robot that carries the burner and performs the brazing.
Discussion:
The heat exchanger and its soldering joints are located in the 3D space by analysing the captured 3D data from the PhoXi 3D Scanner. The shape of the exchangers is not stable and the exchangers' surface is very shiny. These facts led to the application of the individual discrete 3D data analysis instead of a 3D model fitting to the captured data. The deployment of PhoXi 3D Scanner led to cost reduction as well as to the reduction of error rate, increase in accuracy and reliability, increase in productivity and time savings.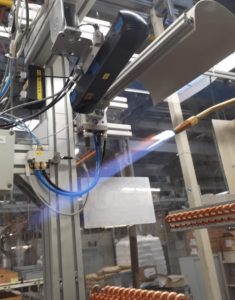 For more information, contact sales@photoneo.com.