University R&D lab according to the concept of Industry 4.0
Partner:
Brno University of Technology, Faculty of Mechanical Engineering
Challenge:
The Institute of Automation and Informatics at the Faculty of Mechanical Engineering at the Brno University of Technology developed a research & development laboratory with a robotic cell according to the concept of Industry 4.0 (Industry 4.0 Cell =  I4C). The project was supported by experts from the university as well as the industry field.
The industry sector experiences a strong trend towards robotization, automation, and digitization. Introducing these topics to students of technical universities is therefore a logical and important step that helps expand their knowledge of the latest trends in industrial processes.
Solution:
The institute developed a robotic cell consisting of an ABB robot, a collaborative UR robot, the PhoXi 3D Scanner from Photoneo, a number of linear axes from SMC driven by synchronous motors from B&R, and some other devices.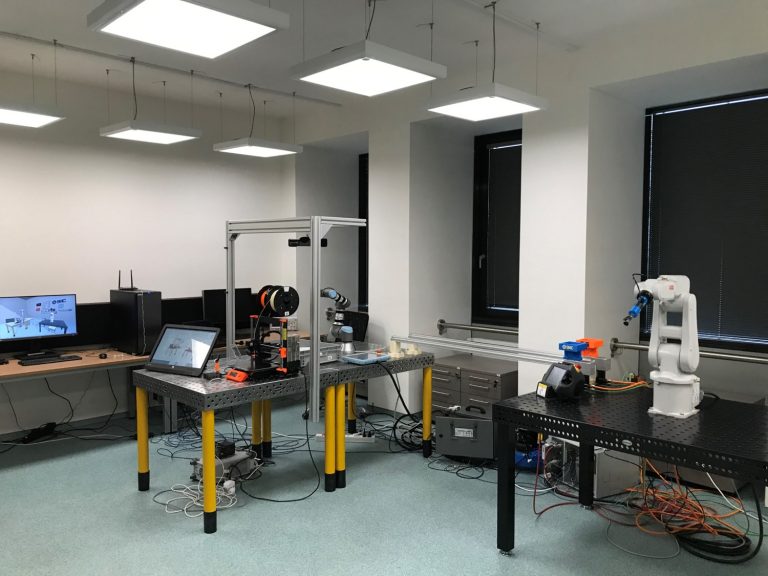 One of the most complex tasks of the project was to integrate all system components with one superior system installed on an industrial PC from B&R. Great emphasis was placed on a clear structure of the final design, modularity, and the possibility to re-program and extend the final design by new tools from different vendors.
During the integration, it was important to follow requirements for interface standardization, ensuring functional safety and achieving the required speed of communication.
The human-machine interface developed in Automation Studio by B&R Automation enables full control of the entire system of the robotic cell from a smartphone, tablet, or computer.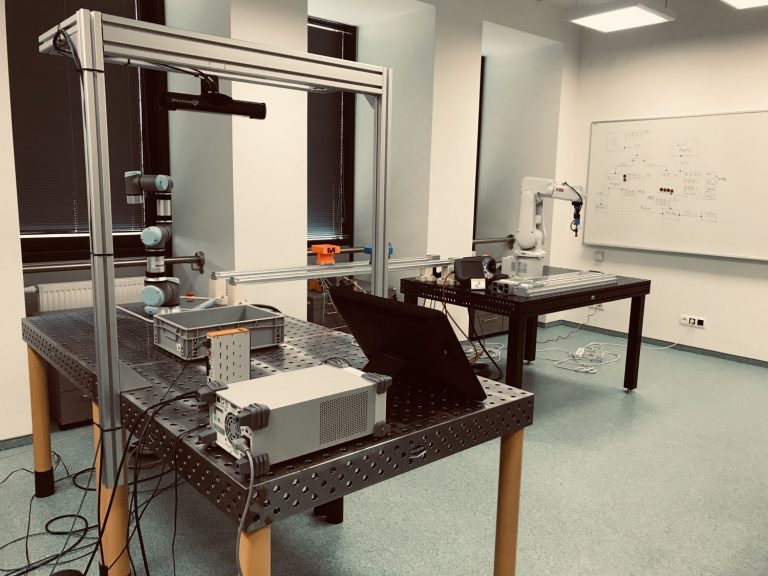 Utilizing robot simulations as dynamic systems (by using models, so-called digital twins) and augmented reality, the system can diagnose and test individual devices, optimize robot movements and perform inverse kinematics, identify and autonomously solve errors, or detect collisions and avoid them.
Discussion:
The proposed solution meets the principles of Industry 4.0, while its modularity allows further extension. The concept of Industry 4.0 also includes methods of artificial intelligence, used for example for predictive maintenance or computer vision. The development of these systems will be the next stage in the design of the I4C robotic cell.
Because digital technology constantly evolves, the concept of the robotic cell needs to stay very flexible. The vision is to create an automated, adaptive, and self-learning robotic cell that would be able to partly reconfigure itself for various types of operations (sorting, visual inspection, assembly of parts, etc.). It will also include direct human-machine cooperation, structured picking of parts from different containers (bin picking), transport handling deploying an omnidirectional mobile robotic platform equipped with an industrial arm, advanced adaptive safety, the use of deep reinforcement learning, and multi-criteria optimization in trajectory generation. The implementation of such a flexible concept of the I4C robotic cell will enable its use not only for teaching and research purposes but also for various automation tasks in real-life applications.